Heiliger Bim Bam Gin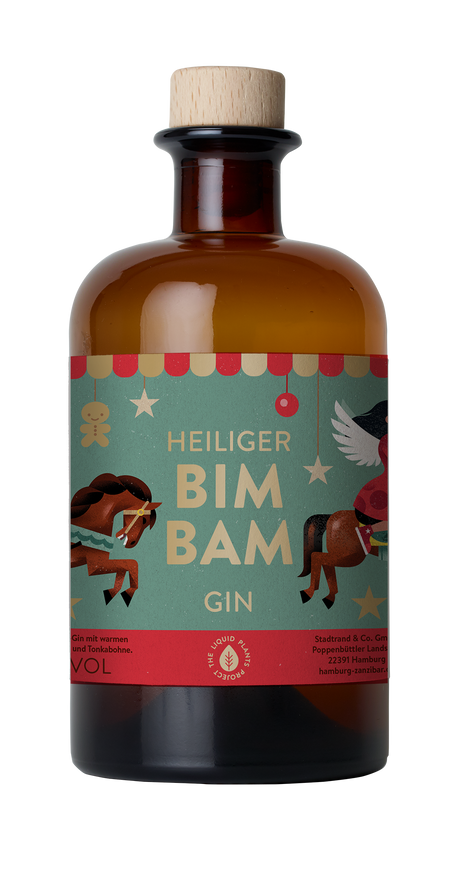 Heiliger Bim Bam Gin
Heiliger Bim Bam! Stilvoller könnte niemand die Weihnachtszeit einläuten wie unser Heiliger Bim Bam Gin! 
Er ist ein Feuerwerk des Geschmacks zu einem festlichen Anlass. Er kommt in streng limitierter Auflage daher und lässt keine Wüsche offen. Ganz im Gegenteil, dieses Geschmackserlebnis steht für alles, was ein gelungenes Fest ausmacht: 
Feinste Schokolade aus Peru zaubert zusammen mit Tonka aus Brasilien eine unglaublich aromatische Wärme auf den Gaumen. Dazu kommen die feinen Zimtblüten, die gemeinsam mit ein wenig Fichtennadeln und einem Hauch von Kampottpfeffer einen festlichen und wunderbaren Gin perfekt machen. 
Und hier ist er: Heiliger Bim Bam Gin. Ein harmonischer, großartiger Gin mit warmen Noten. Wir lieben ihn, denn es ist ein Winter- und Weihnachts-Gin zum Dahinschmelzen. 
warm
weich
weihnachtlich
komplex
frisch
mit Schokoladennoten
und exquisiten Gewürzen
Menge: 500 ml
Alkohol: 43 % vol Alk
Grundpreis: (78€/L)
---
Shipping
We only ship within Germany and only with DHL and age verification 18+. Therefore, we unfortunately cannot deliver to packing stations.
Payment
You can pay with PayPal or credit card.